Valentino Rossi believes MotoGP is in the weakest state he has yet experienced in 12 years in grand prix racing's premier class.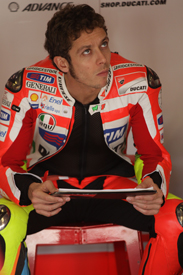 The seven-time champion pinpoints a lack of on-track action as the main issue, which he says stems from bikes and equipment being "too perfect".
"My personal feeling is that they have to change a lot for the future, because now is the worst moment for MotoGP since I was in it," Rossi confessed in a BBC interview.
"[It is the] most boring moment, because the races are quite bad.
"Look at Moto3, very exciting, Moto2 – fantastic – and then arrive at MotoGP, it is very difficult to stay awake. They have to change the product.
"The level is fantastic, the bikes and riders are very fast, but too perfect."
Rossi added that added pressures, including extra financial burdens, also stifled the personalities of young riders.
Asked which young riders he was excited by, Rossi replied: "For me, some good young guns from the Moto2, like [Marc] Marquez who is very fast, but also [Andrea] Iannone and [Scott] Redding.
"A fast rider also having fun – that is the person who makes the difference.
"Usually the young riders arrive in MotoGP and become more serious, because you have more pressure, more money. So I hope the young riders remain fresh when they arrive."
Rossi said his close friend Marco Simoncelli had been cut in that mould, and said on the anniversary of the Italian's death that he was still massively missed.
"After his death, [there] remains a big hole," Rossi said of Simoncelli.
"For me, for his friends, family, at home in normal life, but also MotoGP – it lost one of the best future riders who raced with his heart. [He was] brave, but at the same time very funny, very simple."
As for his own aspirations, Rossi said he would continue to race for as long as his enthusiasm for climbing on the bike remains.
"When you are 20 years old, you have a completely different idea of people at 30," he explained.
"You feel like they are already old but fortunately it's not true, especially with motorcycles, [which] is not a physically extreme sport so you can stay at a high level for more time.
"When I go to a race weekend I am always happy and I cannot wait to go on the bike.
I think while I have this taste it is good to continue; when this attitude changes, it will be enough."
Similar Posts: