Kimi Raikkonen and Charles Pic flew straight from Barcelona Formula 1 testing on Saturday to Moscow to be special guests in the Race of Stars ice event.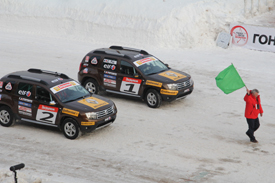 Za Rulem magazine's ice racing event in a hippodrome, first held in 1978, attracts national drivers from many different disciplines.
Every year representatives from Formula 1 and the World Rally Championship are also invited, with previous guests including Sebastien Loeb, Alain Prost, David Coulthard and Vitaly Petrov.
Pic and Raikkonen started their day with a duel in Renault Dusters, where the Lotus driver's rally experience showed as he easily beat ice debutant Pic.
In the main progamme, former Lada World Touring Car driver Kirill Ladygin was declared the winner after Russian rallycross champion Dmitry Bragin's exclusion due to missing headlights. It was a record fourth win for Ladygin.
The F1 guests then tried to beat Ladygin on his home ground. This proved impossible for Caterham man Pic, but Raikkonen pushed the Russian quite hard end even briefly overtook him at one point.
"We have a long history, Finland and Russia," said Raikkonen. "It is nice to have fans from here and hopefully they will come when a race will be here [at Sochi]."
Similar Posts: